DTK show in Hedensted November 17th, 46 Cairn Terrier, judge Yvonne Van De Bogert, NL
CH Cairnstones' Watch That Man "Manne" - 3. W.Champion Class with Excellent & CK andBEST MALE 4
Keencairn's Ceasar - 4. W. Open Class with Excellent
DTK show in Hedensted November 18th, 41 Cairn Terrier, judge Wilfred Peper, DE
CH Cairnstones' Watch That Man "Manne" - 4. W.Champion Class with Excellent & CK
Keencairn's Ceasar - 2. W. Open Class with Excellent
**************************************************************************************
DTK show in Aars October 13th, 47 Cairn Terrier, judge: Keith Lovell, AU
CH Cairnstones' Watch That Man "Manne" - 1. W. Champion class with, Excellent, CK, CLUB CC & best male & BOS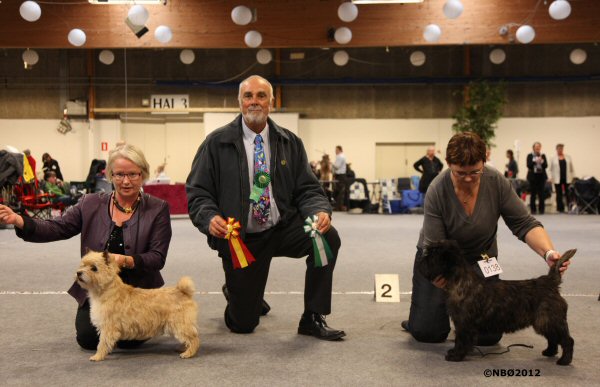 From left: BOB CH Sensei's Charlie's Angels & BOS CH Cairnstone's Watch That Man
***********************************************************************************
DTK show in Aalborg May 26th, 43 Cairn Terrier, judge: M. Möller-Sieber, DE
Keencairn's Ceasar - 1. W. Intermediate class, Excellent & CK
Cairnstone's Watch That Man "Manne" - Champion class, Excellent & CK
DKK show in Aalborg May 27th., 48 Cairn Terrier, judge: Elsbeth Clerc, CH
Keencairn's Ceasar - 2. W. Intermediate class,Excellent & CK
Keencairn's Hot Chili - 2. W. baby class, SL
DTK show in Aalborg May 28th., 44 Cairn Terrier, judge: Jul Hamlot, N
Keencairn's Ceasar - 2. W. Intermediate class,Excellent & CK
Cairnstone's Watch That Man "Manne" - Champion class, Excellent
Pictures from May 28th.: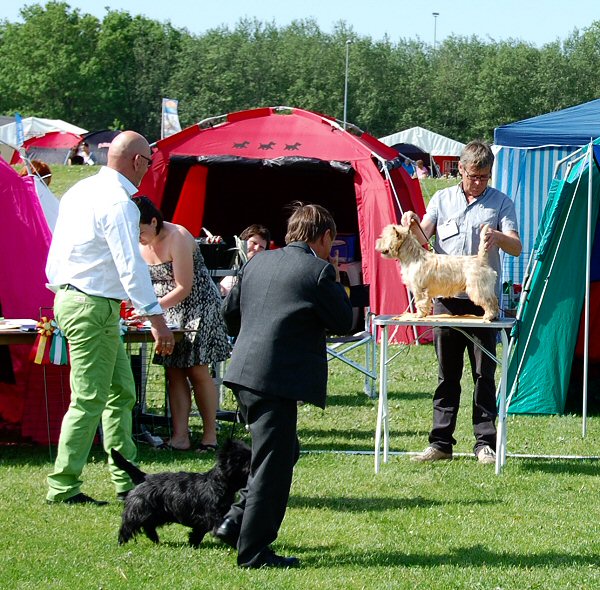 Søren with Ceasar - on the table ...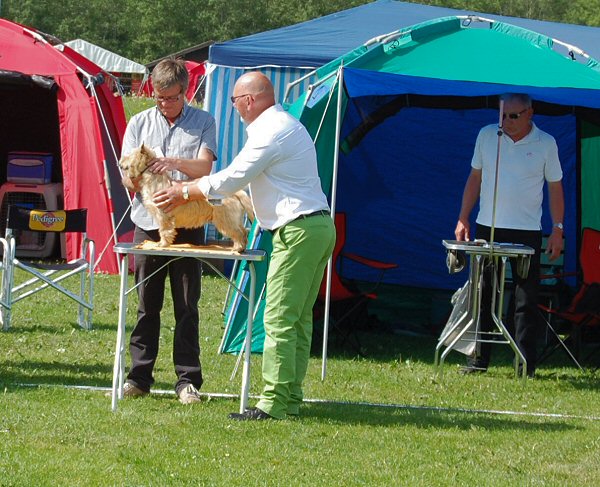 Judge Jul Hamlot marks on Ceasar is correctly constructed and in show condition:-)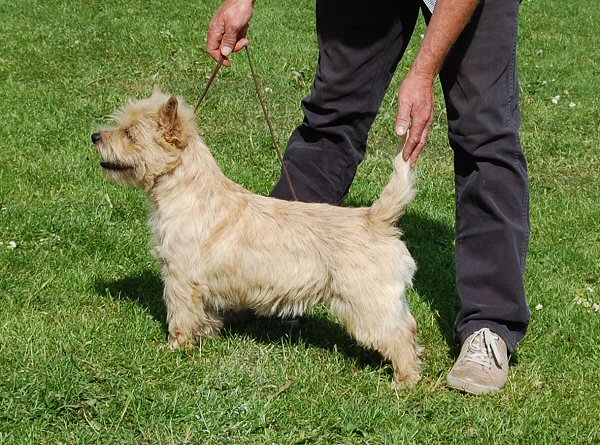 Søren and Ceasar ...
It was 3 lovely days in good company with the other exhibitors - but it was VERY HOT :-)

Big thanks to Søren from Kennel Nordcairn for showing Ceasar.
BIG CONGRATULATIONS to Manne's & Ofelia's granddaughter Kaczaca's Affie - her mom is Keencairn's Zicki.
Affie was on her 1. show in Junior class, she won the class with CK, was best bitch and got her
1. CERTIFIKAT, BIM and BEST JUNIOR - WHAT A FANTASTIC DAY :-))

Right: Anita & Affie BIM - left: Cale Hill's Viggo BIR - Judge: Elsbeth Clerc, CH
******************************************************************************************************************
DTK show in Hårlev April 21st., 50 Cairn Terrier, judge: Tina Delpenbrock, DE
Keencairn's Ceasar - 2. W. Intermediate class,Excellent
Cairnstone's Watch That Man "Manne" - 3. W. Champion class, Excellent & CK & BIK3
Keencairn's Donna - Junior class, Excellent
DTK show in Hårlev April 22nd., 52 Cairn Terrier, judge: Gertrud Hagström, SE
Keencairn's Ceasar - 2. W. Intermediate class,Excellent
Cairnstone's Watch That Man "Manne" - Champion class, Excellent
Keencairn's Donna - 4. W. Junior class, Excellent
*********************************************************************************************
DTK show in Hedensted February 12th., 57 Cairn Terrier, judge: Michael Forte, Irland
Keencairn's Ceasar - 2. W. Intermediate class,Excellent & CK